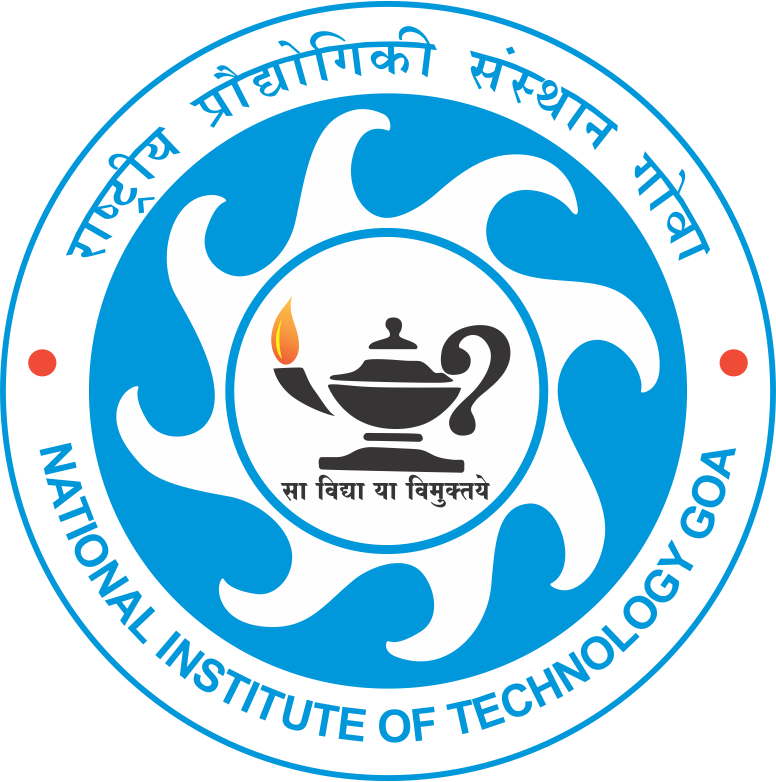 राष्ट्रीय प्रौद्योगिकी संस्थान गोवा
National Institute of Technology Goa
नौवा दीक्षांत समारोह २०२३
9th Convocation Ceremony 2023
Convocation Ceremony 2023: Instruction to Graduands
The graduands are requested to register online at the Institute website latest by Tuesday, 3rd October 2023. The graduands attending the convocation should carry proof of successful online registration.

The graduands and the visitors are requested to bring either one of their ID Proofs such as Aadhar Card, Driving Licence etc.
There will be a rehearsal of the convocation on Friday, 13th October 2023 (i.e. on the day of the Convocation).

GRADUANDS PRESENCE IN THE REHEARSAL IS COMPULSORY.
Rehearsal registration will start at 09:00 AM and close by 10:00 AM. (Students has to collect the entry passes for themselves and accompanying person)..
Rehearsal will start at 10:15 AM.
A graduand will not be allowed to participate in the Convocation if he/she misses the rehearsal.

On the day of convocation (13th October 2023), the graduands are requested to report and collect the convocation duppatta at the Convocation duppatta distribution desk between 09:15 AM and 10:00 AM. The Convocation duppatta distribution desk will be setup at the venue.
Lunch will be arranged for the graduands and the accompanying guests in the venue from 11:30 AM to 1:00 PM
All the graduands are requested to attend the convocation with formal attire.

Boys:- Kurta-Pyjama of White/Light colour preferably with full sleeves.
Girls:- Kurti-Paijama/Chudidars/Salwar Kameez/Saree of White/Light colour. Non-flashy and Decent clothing is required.
Formal footwear for boys(shoes) and girls.

The number of persons accompanying the graduand is restricted to two. Children below 12 years of age are not allowed to the venue.

The graduands are requested to occupy the allotted seat in the Convocation Hall by 01:15 PM. Entry is restricted after 01:30 PM.

Mobile phones should strictly be switched off during the convocation ceremony.

The graduands are requested to stand while the Convocation Procession enters the Convocation Hall.

The graduands are requested to remain seated during the progress of the programme.

Kindly note that an official photographer will be engaged and photos will be uploaded in the website. Personal photography during the programme is strictly prohibited.

The graduands are requested to maintain decorum throughout the function.

After convocation is declared closed, the graduands are requested once again to stand till the Convocation Procession leaves the Hall.
The Following is the list of prohibited items inside the function place i.e. at Seminar Hall, NIT Goa, Cuncolim Campus.

Umbrellas.
Rain Coats.
Water bottles.
Glass bottles.
Sharp instruments.
Matchsticks.
Lighters.
Explosive articles.
Heavy bags.
Pet animals
Alcoholic and Non-Alcoholic Drinks and Beverages.
Tobacco and Tobacco Products.
Plants.
Perishable goods.
Any other articles to be prohibited upon instructions of security supervisory Officers.